A big welcome to Jocelynn Drake and Rinda Elliott as part of their release blitz with IndiGo Marketing and Design for All For Wesley.
Review
Not having read book 1 in the series—although I need to now—I didn't feel at a disadvantage as the authors did a great job in setting the scene, and introducing the characters, at the beginning of the story without it feeling like an info dump.
I love stories set in small communities where the lines between friendship and family blur. I enjoyed reading about Nathan and Wesley, and loved how they both thawed to each other, and grew a friendship as well as a romance. I really felt for both of them, each not wanting to give up their dream but not wanting the other to give up his either. Despite Nathan as first coming across as 'the bad guy' I quickly warmed to him, and could see how his horrible childhood experiences drove him to be determined to show how successful he'd become. Wesley is such a sweetie. These two are very different, yet fit together so well.
I did have to roll my eyes as both of them kept trying to convince themselves that they weren't falling in love, when it was so obvious they were.
The supporting cast is great, and I enjoyed meeting the other residents of Pineapple Grove. I'm looking forward to reading their stores and getting to know them better too. The sense of community and family comes across strongly, and I got a lovely feel good fuzzy feeling reading this story. I especially liked Wesley and Lincoln's friendship and I hope Lincoln gets his HEA.
I loved how the hurricane factors into the plot, and was very satisfied by the way things worked out. Nicely done! I particularly liked how realistic their relationship is, and how, even when they're all about the feels, they still disagree and argue at times. That kind of thing adds to the believability.
I'd recommend this feel good story to readers who enjoy believable characters, friends who are family, and a very satisfying ending. 5 out of 5 stars.

Title: All for Wesley
Series: Pineapple Grove #2
Author: Jocelynn Drake & Rinda Elliott
Publisher: Drake and Elliott Publishing LLC
Release Date: October 4, 2019
Heat Level: 4 – Lots of Sex
Pairing: Male/Male
Length: 67,000
Genre: Romance
Synopsis
A B&B owner takes on a posh hotel developer in this enemies-to-lovers story with plenty of South Florida heat.
The grudge match is set to get nasty.
Wesley and Nathan are willing to pull out all the stops to achieve their dreams.
They just never expected the heat between them to carry over to the bedroom.
After one reckless night burning up the sheets, Wes and Nathan can't stay away from each other.
But is there any hope of them having their happily ever after when it means someone has to give up his dream?
All For Wesley is a standalone enemies-to-lovers MM romance with sneaking, spying, family troubles, helpful movie stars, one poorly timed hurricane, and all the feels.
Excerpt
Closing his eyes for a moment, Wesley mentally chastised himself. This whole plan had been insane. Following Nathan into the gym only to trap himself? Freaking brilliant. At least he knew if the B and B thing didn't work out, his future was not in private investigation.
Wesley hid among the lockers for what felt like a long time, listening to some low conversations, though none were Nathan's voice. A couple of lockers slammed shut, and it sounded like people were heading for the shower. When it grew quiet, Wesley released the breath he'd been holding for far too long. He sneaked out from the last row of lockers, aiming to make a beeline straight to the exit and back to Wilton Cottage.
Except Nathan was waiting for him, leaning against the lockers.
In a towel.
They were alone in the locker room.
"You positively suck at being inconspicuous, do you know that? That bright shirt can be seen a mile away." Nathan chuckled and crossed his arms over his wide, bare chest.
The towel slipped an inch lower, and all Wesley could do was stare at the light-brown happy trail below his navel and wonder how it would feel under his tongue. He could drop to his knees and tug that towel off, wouldn't take much to dislodge it…
"Blake!"
He blinked up to find Nathan's eyes narrowed as he stared at him. Heat crept up his neck, and he worked to remember why he was there. Hell, he could barely remember his name right then. His gaze slipped down that muscular chest again. He couldn't help himself. Damn, but Nathan Randall was built. A lot more than he'd expected. Those damn suits hid all the good stuff.
"Are you even capable of conversation right now?"
"Hmm?" Had that towel moved when his abs contracted?
The soft laugh that met his ears did little to pull him out of his stupor. Had his mouth been dry before? Because now it was watering something fierce.
Nathan stepped closer and lifted his chin with warm fingers. "There's an…interesting scent coming from you."
That slammed Wesley right back down to earth. "I stepped in dog shit." The humor of the situation got to him all of a sudden and he snorted.
Nathan grinned and Wesley was stunned at how such a little thing could transform Nathan's entire demeanor. Had he really never seen Nathan smile at him? Well, he was sure he had, but there had always been a look of calculation in his eyes. Like he hadn't really felt the warm emotion that went with the smile. He'd only done it to put Wesley at ease. But this time, the grin was matched with amusement in his eyes and those adorable little crinkles that stretched out from the corners. "It's not a pleasant smell," Nathan murmured.
"I promise, I usually smell better."
"I'm aware."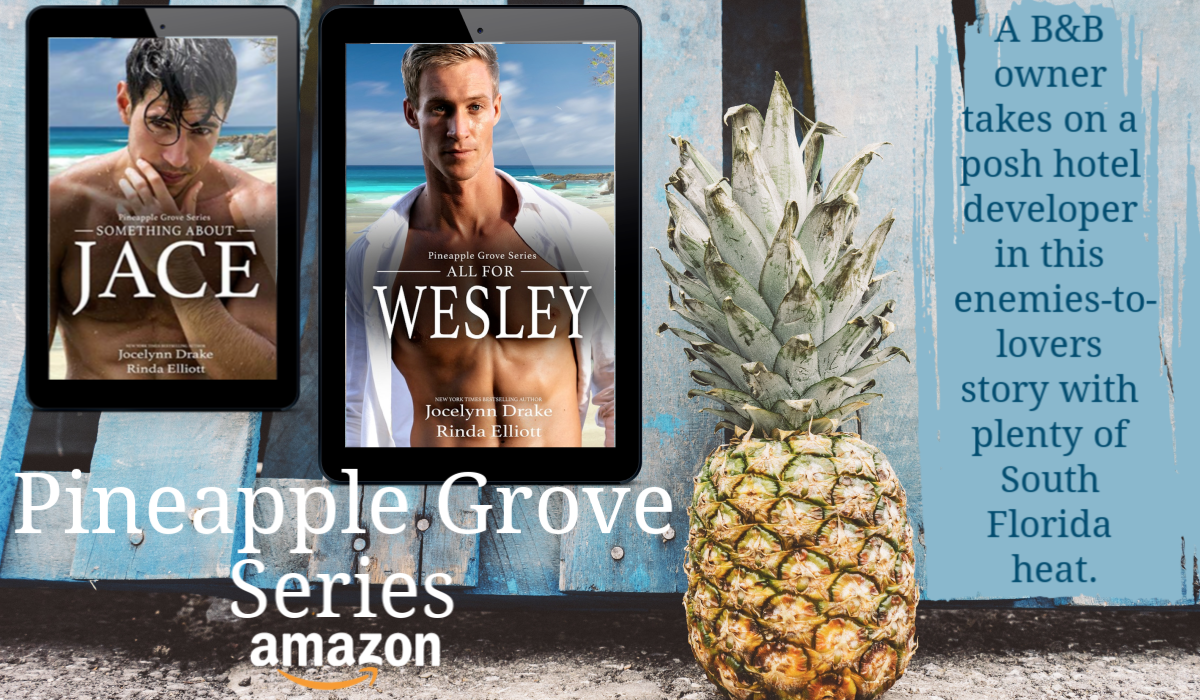 Meet the Authors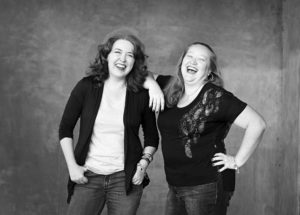 Jocelynn Drake and Rinda Elliott have teamed up to combine their evil genius to create intense gay romantic suspense stories that have car chases, shoot outs, explosions, scorching hot love scenes, and tender, tear-jerking moments. Their first joint books are in the Unbreakable Bonds series.
Giveaway
a Rafflecopter giveaway
https://widget-prime.rafflecopter.com/launch.js