A big welcome to Julia McBryant as part of her blog tour with Other Worlds Ink for Hurricane Dreams.
Things You Didn't Know About Calhoun Chatterton
1. Despite his long hair and going to the party school of College of Charleston, he has never smoked pot or done any other drug. He doesn't strenuously disapprove, it's just not his thing. Audie thinks he is vehemently against them and hides his vape pen (decriminalized in the city of Savannah, GA).
2. He likes licorice because his mother hated black jelly beans, and used to give them all to him.
3. He hasn't seen his mother since his parents divorced when he was six years old, and he was raised exclusively by his father and his grandmother (a force of nature), who coddles him to death. They live in one of the biggest houses on Forsyth Park, the prettiest public park in Savannah, Georgia.
4. His cook, Miss Amelia, actually does make the best biscuits out of all the characters' mothers/cooks/grandmothers in the Southern Seduction universe, despite the ongoing arguments about it.
5. He loves to fix up old cars, and drives a vintage silver Jaguar most of the time. It has two doors and a maroon leather interior; he also owns a vintage baby-blue Ford pick-up. When he bought it, it had the bumper sticker "I may be fat, but you're ugly, and I can diet." He refused to remove it. Audie ridicules him mercilessly for this.
6. Henry Culliver was his first kiss; Quinn Rutledge was his high school hookup buddy who taught him, um, everything else short of sex. They only stopped at sex because neither one wanted to be on top, end of discussion.
7. He still has all his childhood toys carefully stored in the attic, thanks to his Gran. This includes vintage He-Man and Star Wars figures probably worth a fortune, which he remains totally oblivious to, and which Audie would go crazy for. They've unfortunately never discussed it.
8. He's been best friends with Quinn Rutledge since they were in kindergarten. They sat at the same table and had cubbies next to one another, and he helped Quinn learn to read.
9. He can beat Audie at chess and scrabble every single time. Audie refuses to play with him anymore, even though he's sweet about winning.
10. No, Calhoun really is that nice. Seriously. He and Crispin always traded kindness awards back and forth in school.
11. He is related to former Confederate president John C. Calhoun, but as a distaff cousin, not as a direct descendent.
12. His initials are CCC; he refuses to reveal what the middle initial stands for. That's because it's Cox.
13. He only uses the word "fuck" in the bedroom. Ever.
14. He's won prizes for his journalism at College of Charleston, his news photography — he's already had photos picked up by the Associated Press, notably of the marches after the Emmanuel Church shooting — and his art photography. He doesn't tell people about any of these things.
15. Despite his intelligence and ability to keep up with Audie (who was valedictorian), Calhoun didn't make the cut with the highest grades in the class — his dreaminess is actually undiagnosed inattentive ADHD, and he hovered around fifth in the class, behind both Henry and Wills. Instead, Wills Culliver served as the class valedictorian. He said "damn" in his speech, and Calhoun's grandmother whacked him with her purse afterwards, because she said it was inappropriate. Calhoun secretly agrees with her.
16. Audie once convinced him that "Redneck Party Sounds" was actually an unknown Beck album. They weren't even drunk at the time. Calhoun is also that trusting.
17. His favorite author is Pat Conroy, and he sort of envies Audie for going to USC, where the novel The Prince of Tides takes place and the events described in Beach Music were inspired by. He's known tattoo he wanted (a quote from Beach Music — "No story is a straight line") since he was sixteen but never had the guts to do it.
18. His grandmother was good friends with Jim Williams, the protagonist (and alleged murderer) described in Midnight in the Garden of Good and Evil. It's one of the reasons that she doesn't mind Calhoun being gay, though Calhoun has no idea that she even suspects it, let alone accepts it. Calhoun attended one of his last Christmas parties.
19. He once convinced Audie to sneak into a donor-only party after Pat Conroy spoke at USC, an event he had specially driven up to Columbia for. Audie was mortified, but Calhoun spent a good deal of time talking to Conroy, who was delighted to jaw about literature to two intelligent college students, thus pissing off all the donors who'd paid a good bit of money for facetime with Conroy.
20. He's already planned a good bit of his and Audie's wedding in his head. He wants it to happen in the summer in Forsyth Park with Quinn as his best man, and everyone in seersucker.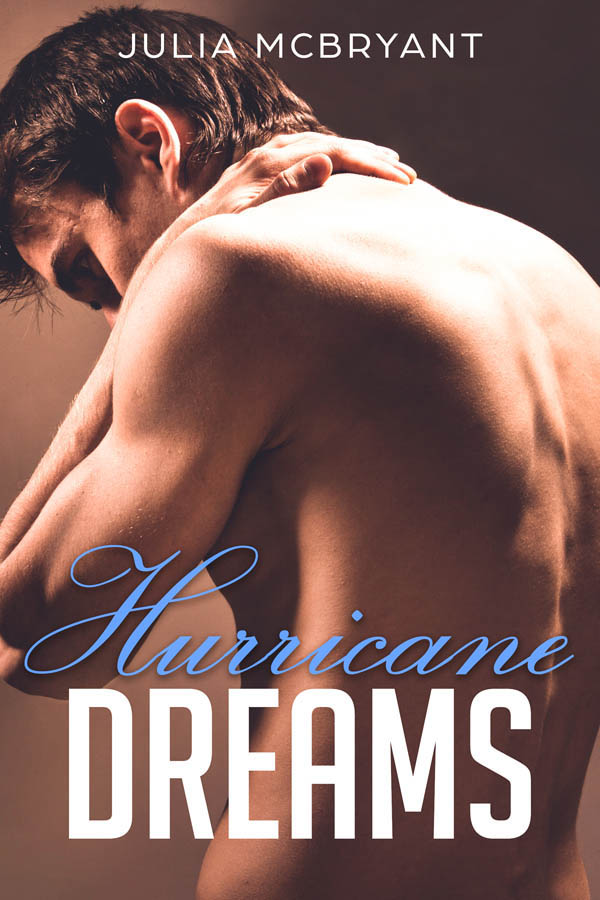 Julia McBryant has a new MM contemporary book out: "Hurricane Dreams."
Audie Currell, the only son of one of the richest families in Charleston, runs off from his parent's wine tasting with his father's business associate's son, Calhoun Chatterton, another well-off teenager from Savannah. They start dating in secret. But Audie's abusive childhood stands in the way of an authentic relationship — as does their family's homophobia. They have to hide their relationship while coping with Audie's trauma. Can two naive teenagers manage such a difficult task?
Series Blurb:
The Southern Seduction series chronicles the interconnected lives of a group of well-off, high society young adults in Savannah, Georgia, most of whom have known each other since kindergarten. Their complicated relationships (and unconventional sexcapades) form the meat of the series, along with a careful attention to chronology, character, and prose. More than romantic erotica, the Southern Seduction series details a fully realized world of drama, theme, and most of all, memorable characters.
Amazon US | Amazon UK | Amazon CAN | QueeRomance Ink | Goodreads
---
Giveaway
Julia is giving away a $20 Amazon gift certificate with this tour, as well as eBook copies of It's Enough, Like Sunshine, and Slow Dance. Enter via Rafflecopter:
a Rafflecopter giveawayhttps://widget-prime.rafflecopter.com/launch.js
Direct Link: http://www.rafflecopter.com/rafl/display/b60e8d4782/?
Excerpt
"God, I fucking love your car. You're super hot and you come with a Porsche Carrerra. Jesus, Audie. Are you seriously real?"
"Are you?" Audie laughs and tucks Calhoun's hair behind his ears. He still can't believe the things he says to Calhoun every goddamn day. Audie never imagined using words like these with another person. You don't hand your heart to someone else. As soon as you do, you know it's going to shatter one day. It reminds him of a hurricane slamming down the Carolina low country, Hugo or another big one: you can't stop the storm from coming. You can only close the shutters and pray the seawall holds.
Audie tries to catch Calhoun's hand when they get to the restaurant, but his boyfriend shakes his head. "We can't."
"Not at all?" Audie asks.
"No. But we can go out to Tybee."
Calhoun seems to relax with the change of scenery. Audie thinks some alcohol helps too. It helps Audie. Always has, since he was fifteen years old. He doesn't share that with Calhoun. Some things you just don't tell anyone. Like, my daddy belted me bloody. Or, his business partner's daughter Easter stood there terrified while it happened. And that's why I bought bourbon the first time.
You don't say it. The same way you don't talk about high school.
The Savannah heat slams them when they come out of the restaurant. "Been hitting like, a hundred this week," Calhoun says. "At least Tybee has the sea breeze. You really don't swim at all?"
"No," Audie says. "But I'll wade." Another thing you don't say: why you don't swim. My daddy marooned me in a pontoon boat when I was eleven because he said I had to get over my fear of bull sharks. Told me to swim over to his boat and we could go home. It took me four goddamn hours to get the courage to do it and it was the worst thing in the world and I will never get in the ocean again ever. You say: I have this shark phobia. Can't shake it, sorry. You can tell the truth without telling it. You can come close to a thing without touching it at all.
Calhoun directs him down East Bay Street onto the highway. They leave the windows down and let the wind whip their hair, Audie's into a curly froth, Calhoun's into mermaid tangles. Audie blasts the Charleston band Jump, Little Children, who Calhoun's never heard and Audie's seen a million times. "They're really good," Calhoun yells over the wind and the music, between bites of the black licorice he dug out of his bag. Audie had laughed when he unearthed it. "We should go see them sometime."
Audie snorts. "Maybe if they play Columbia," he shouts. "Not seeing you in Charleston again. Stupid. Just have to act like friends."
"Same in Savannah."
"Should say we chartered a boat in Pauley's Island or Georgetown next time with some friends. Maybe the Outer Banks. I could even summon up some friends if we needed."
"Me too."
"Say we went fishing and picked up girls. Send pictures of fish and girls to our daddies." Audie laughs even though it's not funny and he's not joking and Calhoun nods.
Calhoun's Tybee house sits on the water, huge and modern, all sleek lines. "I love this house," Calhoun says as they park underneath it.
"Hate that hurricanes'll always take a beach house," Audie says. "Hate it for our Folly house."
Calhoun looks at him kind of strange. "I guess."
They walk hand-in-hand, bags slung over their shoulders, up the stairs. Calhoun shuts the door behind them and Audie has him against the wall. "This okay now that we're at the beach?" he says, intentionally talking right into Calhoun's ear.
"Yeah," Calhoun breathes. "Doesn't matter in this house."
Audie moves his leg between his boyfriend's thighs. "Because I want you real bad." He knows Calhoun likes it when he talks to him.
"Want you too." Audie feels him stiffening.
Audie kisses him hard, like before, but his time braces himself against the wall and pins Calhoun against it completely. His boyfriend thrusts against him. God, Audie loves this. He loves that Calhoun loves this. He moves slightly so their cocks rub against each other through their thin shorts. Their belts clink and it's somehow one of the hottest sounds Audie's ever heard. He breaks off the kiss and moves to Calhoun's ear again. "Go into the bedroom," he says, "And get your fucking clothes off. I missed you and I want you." Audie's pretty sure Calhoun wants him to talk like this, and he wants to talk to Calhoun like this, and he thinks he can get away with it.
He knows he can when Calhoun sort of sucks in a breath and moves on him. "Okay," he says. "Okay, Audie."
Calhoun leads him into a big room with a king-sized bed. He strips. Audie rummages in his bag and takes out what they need, then takes his own clothes off. Calhoun watches. Audie knows his boyfriend's watching, but when he looks up, Calhoun drops his eyes. Audie hopes he doesn't fuck this up. They've only done it twice, once the afternoon in his beach house and once the next morning, which makes a total of two times Audie's ever had sex in his entire life. Calhoun doesn't know that and Audie isn't telling.
"Get on the bed," Audie orders. God, he's wanted to say things like this his whole life. Every time, he gets bossier and bossier and Calhoun loves it more and more. Obediently, his boyfriend pulls down the bedspread and sheets, climbs into bed and waits for Audie. Who takes his goddamn time getting over there. Calhoun looks too good lying on his side, watching Audie with those big eyes and a hard cock. He messes with it a little, which makes everything better.
---
Author Bio
Julia McBryant is, as the saying goes, Southern born, Southern bred, and when she dies, she'll be Southern dead. When she's not riding her horse or writing, Julia likes to play with her German Shepherds and rescued greyhounds, make all the crafts (especially those involving glitter), and hike, especially in the North Carolina mountains. She is grateful her husband tolerates both the dogs and the glitter.
However, she spends most of her time writing like tomorrow won't arrive, like she needs it to survive, every second she's alive, etc. (see Hamilton for details). She also lives to sing in the car, especially David Bowie.
Author Website: https://www.juliamcbryant.com
Author Facebook (Personal): https://www.facebook.com/juliamcbryant
Author Facebook (Author Page): https://www.facebook.com/authorJuliaMcBryant/
Author Twitter: http://www.twitter/juliamcbryant/
Author Instagram: https://www.instagram.com/julia_mcbryant/
Author Goodreads: https://www.goodreads.com/author/show/19186436.Julia_McBryant
Author QueeRomance Ink: https://www.queeromanceink.com/mbm-book-author/julia-mcbryant/
Author Amazon: https://www.amazon.com/Julia-McBryant/e/B07S838TFX